During the sovereignty of the USSR, postal and telecommunication were unitedly working as a part of regional and republican communications departments. Their duty was to provide both postal and telecommunication services. But after the splitting of the USSR, the postal service became an independent industry. In 1992 Federal Postal started providing postal services in the state of Russia. This step did not go very well and caused many problems like influence in decision making from outside. So it was the time of need to introduce a new system which covers all problems.
As a result of this, in 2002, the state united all existing postal organizations and made an independent enterprise named as Russian Post, maintained by the state.
2015-2018 was the turning year for Russian Post as they modernized their system with the latest equipment. It started providing more logistic facilities. The company built 37 logistic post centers to provide a facility of hubs, and it started saving a lot of time in delivery. In 2009 Russian Post built their sorting point in the UK and Finland to improve the quality of delivery in Russia from online stores like Amazon and eBay etc. A subsidiary company was established in China after seeing a significant increase in shipment between Russia and China. It increased the quality of Russian Post and took less time in delivery.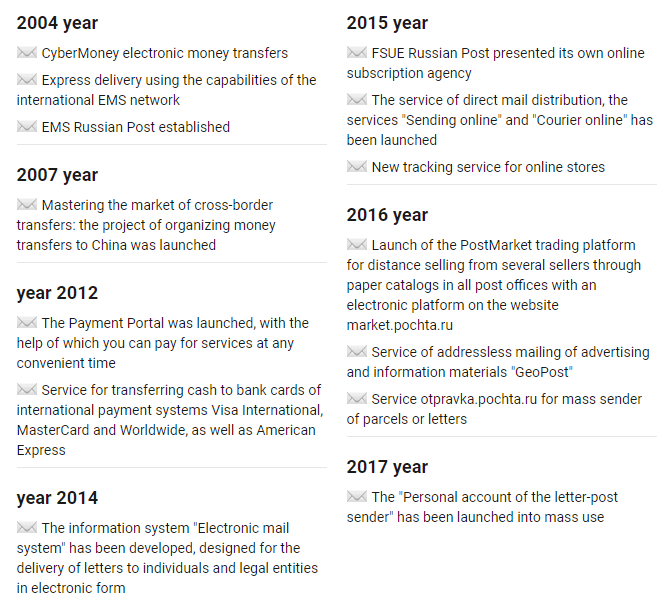 FAQs
How long does it take customs in Russia to clear a shipment?
It usually does not take too much time, but if this is taking, then it depends on many factors. It can include an unusual number of items in customs for clearance or the problem with the shipment itself. You can track your Russian Post shipment here so you can contact parcel carriers in case of any delay or not understandable status.
Does Amazon use Russia Post to deliver parcels?
Yes, sometimes amazon uses Russian Post to deliver parcels in Russia. If you have some special requirements regarding your carrier, it is best to check at the seller's end before placing an order. Again if you want to track your order from Amazon or another marketplace, letracking is best for all eCommerce tracking. We are available for you 24/7.
How much Russian Post charge for global delivery?
It depends on many factors but doesn't worry; we will give you an idea to estimate cost. Sending a postcard from Russia to the US or EU costs about 0.70 euros and 3 euros if you want up to 1 week quicker delivery. Regular service will take 1-2 weeks, and it also does not include a tracking number, but extra 3 euros will get you that. A 1 kg parcel within Russia will cost around 10 euros and reach 20 euro if it's an international delivery.
Russian Post followed new norms and introduced EMS, which is fast, premium, and reliable for global delivery. It takes only five days to deliver Russian Post parcels and shipments worldwide. The price of this service starts from 20 euro and ends depending on factors like weight, size, and destination, etc.
How much Russian Post compensate in case of loss or late delivery?
Russian Post provides many services, so compensation depends on the type of service. Some do not include compensation, tracking, and some include a tracking number, so you can use it to track Russian post parcels here. Let's have a look at the different services of letters and parcels.
Compensation of Parcels within Russia
If the lost or damaged item has declared value, Post will compensate you with the declared value and the tariff fee. If anything occurs in the inventory, then compensation will be done as per the declared value of the missing or damaged part.
In the case of late delivery, the company compensates for 3% of the postal fee each day. Track Russian Post here on letracking and contact the customer service in case of late delivery.
Compensation for International Shipment
In case of loss or damage to the registered international shipment, the Russian Post will compensate with 30 SDRs and a tariff fee. If the item is 'M BAG,' then compensation will be 150 SDRs and a tariff fee. For valuable items, compensation is declared value along with tariff fees. And loss or damage to a part of an international item then compensate will be the actual amount of that part. You can do Russian Post Tracking of all services here and not only this but also many other courier companies like Pakistan Post and China ePacket.

Russia Post does not compensate if loss or damage is made due to the following reason:
It happens due to the natural disaster
If the items seized by the related authorities
If the fault is of the sender, like improper packaging, etc
How to trace Russian Post Parcel & Shipments?
Letracking is known for its problem-solving skills in tracing universal packages and couriers. You can track any parcel anytime, anywhere. For Russian Post tracking, follow the following steps:
Open letracking.com
Search Russian Post
Enter tracking number and press the track button
If it's an international shipment and handed over to your local logistic service provider, use universal tracking.
How to find Russian Postal tracking number?
A tracking number used to trace parcel, package, and shipment from Russian Post. It consists of a 13 or 14 digit code collection of alphabets and numbers, and this varies as per the type of postal service. If you don't have a tracking number, then contact Russian Post to get a number, check your email, shop page, or your service does not have this facility. You can track Russian Post, including all universal couriers and parcels on LeTracking by just entering a tracking number. By this, you know the current status of Russian Post with the expected date of delivery.
How to contact Russian Post EMS?
Phone: +7 (495) 956-20-67
8-800-1-000-000
Website: https://pochta.ru/

Now you're done with Russian Post tracking.