Track your ACS courier by just entering the tracking number and press the track button. ACS courier tracking has been working in Greece since 1981 and still stands in the market due to its determination towards quality and loyal customer service. It is one of the leading firms in document shipping and parcel shipping in Greece and worldwide. A good price along with a quality service is what makes ACS successful.
ACS Greece
ACS tracking company is not only working in Greece but Cyprus, Albania, and Bulgaria too with 350+ shops. Staff at the store oversee the quality and speed of work in order to deliver parcels safely. They are working in 200 countries.
Since ACS has the latest and most modern technology in tracking, sorting, it can provide its customers with quality. They have a license and are registered with ISO 9001:2000.
A tracking number is used for ACS tracking. It is consists of up to 10 numbers or an airway bill can do the same for you. ACS tracking number will help you know about your courier's current status. In case of any confusion contact with acs on the above numbers.
ACS Services
The company does not stop itself on just express service or domestic service. They started to provide various services not only in Greece but all over the world. ACS has developed their own latest IT software and automated systems to improve their quality. It helps them in sorting, tracking, and locating shipments. They provide the following domestic courier services and international transportation services.
Domestic Courier Services
In Greece, ACS provides the following services through 300 local ACS Stores.
Standard Services
Additional Services
Special Projects and Dangerous Goods
Unacceptable Postal Items
Shipments Insurance
International Transportation Services
The international delivery service picks up the goods in Greece and then delivers them all over the world. This shipment is monitored by SPITTS which helps in handling, transmission, delivery times, and tracking shipment routes. Following are the services.
Standard Services
Additional Services
Custom Paper Work
Unacceptable Postal Items
Shipments Insurance
Besides courier service, ACS also provides other following services:
Bill Receipts
Money Transfer
Prepaid Cards
Achievements
Launch of simple mail delivery service in 2013 through the new ACS ABP service for bills and postal mails.
In 2012, ACS made significant investments in IT solutions and state-of-the-art sorting equipment for simple postal mailings.
2011 marks the installation of a new parcel sorting system in the Sorting Center of Athens.
ACS launched tablets for entering digital signatures in their shops and began selling prepaid cards in 2010.
FAQs
How much ACS charges for parcel delivery?
ACS charge differently on every parcel depending on very factors like it is within the country or outside and weight etc. The following charges are for express delivery and 2KG weight or less.

The following prices are for packages whose weight is up to 10KG from ACS.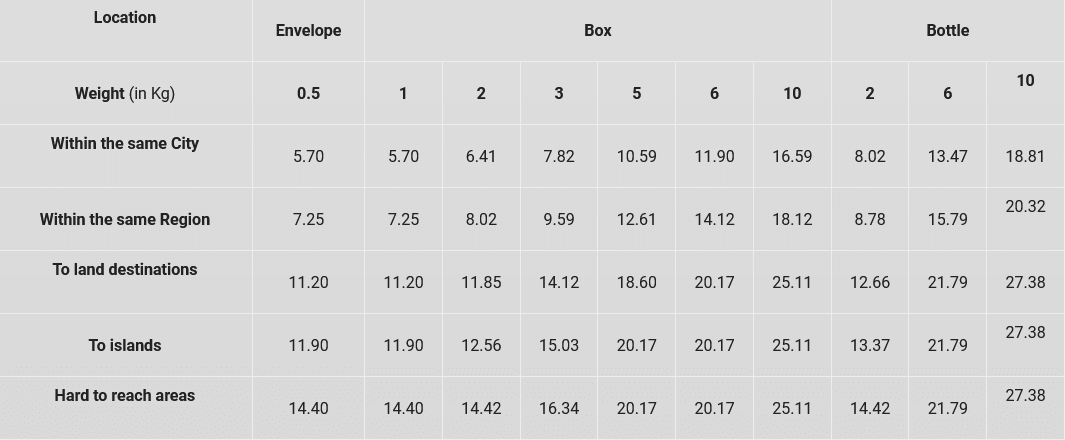 How to track ACS courier?
To track ACS courier and parcel enter the tracking number in the above search bar and press track button. This way you can track and trace your ACS package and parcel online.
How do I contact ACS courier?
ACS always gives its best effort and strives to satisfy every customer with quality. So they're accessible to their customers whenever they need them. To resolve any problem or if you have any questions related to their service, you may contact them on the following number.
Email: info@acscourier.gr
Phone: +30210 81 90 000
Fax: +30210 8190 311
+30211 5005 311
Letracking is a third-party tool for ACS courier tracking with more than 450 other carriers tracking including Pony Express and ABX Express. You can track all your parcels in one place. Get a real-time update of your parcel with a tentative time of delivery. It is one of the best platforms to track ACS parcels and shipments due to its fast service.